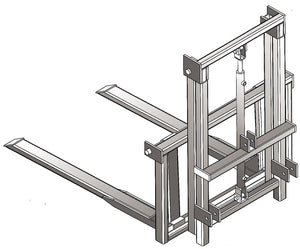 CADplans
CADLift Model 101
Regular price
$109.95
$0.00
CADLift is a forklift that is designed for the rear of your tractor. Install or remove CADLift with the ease of any other 3-point hitch attachment. CADLift will handle pallets and other materials like a forklift and can raise the load to a height of 60 inches for easy loading at standard truck bed heights.

The beauty of the CADLift's design is that the added weight of the loader will increase stability through better weight distribution and provide greater traction at the rear wheels. This greater rear weight distribution pushes down on the drive wheels where a front mounted forklift attachment will instead load the front wheels and cause a tendency for the tractor to tip forward. This design eliminates the need for adding weights to the rear wheels.The angle of the forks is adjustable by the varying length of the top link.

OPTIONS

If your tractor does not have hydraulic remote outputs already, a 12-volt hydraulic power pack can be used to actuate the cylinder(s). Several types of 12-volt hydraulic power packs are available such as single acting, double acting and dual cylinder, each with optional remote control wiring available. If CADLift is operated behind a tractor that is equipped with hydraulic remote outlets, this power source can be utilized to operate the lift.

The single acting 12-volt hydraulic power pack offers power up, gravity down and requires only one hose. Install a filtered breather in the unused port of the cylinder to keep dirt out during gravity down operation.

The double acting 12-volt hydraulic power pack offers power up and power down.
---
More from this collection